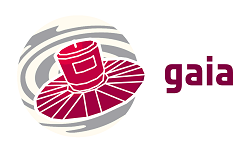 Gaia Simulations
Two kind of Gaia catalogue simulations are available to the community.
GUMS - Gaia Universe Model Snapshot
Described in Robin et al. 2012.
It contains a simulation of the objects that can be observed by Gaia down to a given limiting magnitude.
GOG - Gaia Object Generator
Described in Luri et al. 2014.
GOG is the transformation of GUMS into Gaia final (or intermediate) catalogue data.

Data availability
GUMS 10 is available in VizieR. It corresponds to the version described in Robin et al. 2012.
GUMS 18 is available in HDF5 format and through TAP A GUMS 18 Readme has been drafted.
GOG 18 is available in HDF5 format and through TAP. It is based on Gaia nominal performances.
GUMS and GOG 20 are available at GACS, tables gaiaedr3.gaia_universe_model (GUMS) and gaiaedr3.gaia_source_simulation (GOG). Documentation is available within the EDR3 on-line documentation.

Zsync file can help you to download incrementally big HDF5 files (support only http protocol, not https). See here or here for more informations.
Contacts
For more information, contact Carine Babusiaux (carine.babusiaux at obspm.fr) or Eduard Masana (emasana at fqa.ub.edu)